Arts and Culture to Enjoy
Works of Public Art
Moorhead has many wonderful arts and cultural amenities for residents, businesses and visitors to enjoy. Here are a few public art projects available for all to experience:
2022 Call for Activation Projects
photo courtesy of Roni Delaney

Local artist Patrice Delaney created Bun-Bun the rabbit, Georgie the hummingbird, and Buddyfly the butterfly from urban wood waste, natural materials, wire, and found objects, along with some screws, nails, and glue to keep them together. The Forest Friends are nestled into the forest of Viking Ship Park.

Patrice stated "I wanted to create public art that would surprise people on the trails in Moorhead and encourage art lovers to explore the natural areas near the Red River. The riparian ecosystem is at the center of our community, and I want to encourage people to go there, look closely, and enjoy the environment for a moment or two."
"Breaking the Surface" Sculpture in Davy/Memorial Park
Local artists Catie Miller and Emily Williams-Wheeler have partnered to bring vibrancy to the park with an unexpected and humorous approach. Over several weeks, they carved the beaver prototype from a stacked block of foam insulation and covered it with plaster. Once the prototype was complete, it was delivered to a fiber glass studio in Buffalo, MN to create a mold and multiples.

Breaking the Surface has two distinct meanings. To start, it refers to the ecosystem of the Red River Valley and character traits of our community. Beavers can be seen throughout the Red River Valley and are symbols of persistence and hard work. They are also team orientated, working together to create a strong colony.

Of equal importance, the project represents one of the first large public art installations in Moorhead, bringing a uniqueness and playful identity to the City and park while providing access to art for all!

This project was made possible through generous donations to the Moorhead Community Fund and a grant from the FM Convention and Visitors Bureau.
Bench and Box Art
| | |
| --- | --- |
| | In collaboration with Moorhead High School teacher Grady Carlson, 15 students submitted original works of art for consideration to be placed on seven downtown benches and a utility box near Moorhead High School. |
Moorhead Proud Art
Florence Klingensmith mural

The artist team of Cory Gillerstein and Jared Froeber painted a mural of Florence Klingensmith, a Moorhead native, who was an aviation pioneer in the 1920s. She was recently a subject of a best selling book "Fly Girls: How Five Daring Women Defied All Odds and Made Aviation History." Her little known story will now be honored as part of Moorhead's history. Ace Hardware on Main Avenue has enthusiastically offered to display the mural on the west side of the store.




Storm Drain Community Art project

In the summer of 2022, River Keepers has partnered with artist Olivia Baine to design and implement public art around storm drains. The project is intended to leave a lasting impression on the community to monitor and protect our water system from storm drain pollution.
I-94 Tower Art
| | |
| --- | --- |
| | Moorhead Public Service and the City of Moorhead, in partnership with the Churchill group, conducted extensive community engagement to develop a work of art for the I-94 water tower anticipated to be rehabilitated in 2021. The art captures the Red River of the North, parallel River Corridor Trail and seasonal trees including Concordia's Crazy Tree. |
Southside Tower Art
| | |
| --- | --- |
| | Moorhead Public Service and the City of Moorhead collaborated with southside neighborhood representatives to develop a work of art for the Southside water tower anticipated to be completed in 2021. In coordination with Carrie Lee Kinslow, artists Stephen Dorset and Jack Lunde created the design that is unique to the neighborhood and includes the Bluestem Amphitheater, Concordia's crazy tree and recreational elements. |
Woodlawn Tower Art
| | |
| --- | --- |
| | Moorhead Public Service and the City of Moorhead collaborated with the Woodlawn neighborhood to develop a work of art for the Woodlawn water tower, which was rehabilitated in 2018. With coordination with Su Legatt, artists Stephen Dorset and Jack Lunde created the design that is unique to the neighborhood including the Main Avenue bridge, river, Stave Church, log cabin and recreational elements. |
Oakport Our Tower Art
Moorhead Public Service repainted the Oakport water tower in Fall 2017 which includes a collaborative work of art by Stephen Dorsey and Jack Lunde two talented, local designers who submitted individual designs to an open call for art. The design is an interpretation of 'Life in Moorhead' and focuses on some of the key aspects that make our city unique, with special emphasis on the amazing wilderness available in the Oakport neighborhood. The artistic component of this project was lead and facilitated by professional artist, Su Legatt.
This project is made possible by the voters of Minnesota through a grant from Lake Region Arts Council, thanks to a legislative appropriation from the Arts and Cultural Heritage fund. Video: Long Format / Short Format
Aerosol Art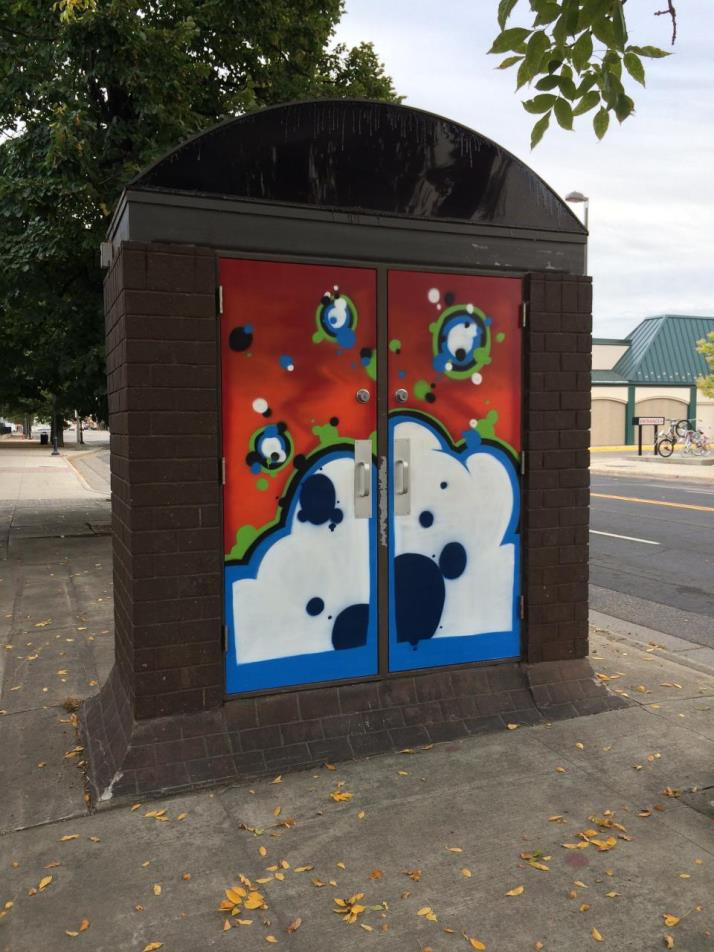 In 2015, Micah Leitel joined with the community and Rourke Art Museum to create "Bubbles", an aerosol art piece on a utility structure on Center Avenue. A free interactive aerosol workshop allowed community members to interact with the aerosol medium and create their own works of art.
MPR documented the day that was enjoyed by many.
Although the utility structure was removed for the 2022 Center Avenue reconstruction, the art and workshop leaves a lasting impact on the community.
CenturyLink Moorhead Box Art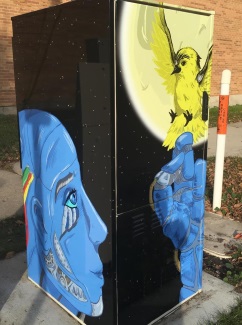 In 2016, CenturyLink commissioned seven works of art through the CenturyLink Moorhead Box Art Project contest that invited creatives to submit original works of art with a technology theme for the chance to be selected to wrap a CenturyLink utility box. CLICK HERE for brochure featuring the selected works of art and the location.
Sidewalk Art & Poetry Project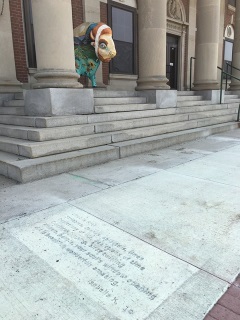 Your walk around Moorhead will now be inspired by more than green grass and trees. In 2016, nearly 100 designs were imprinted in sidewalks being replaced as part of road construction projects on Moorhead's major corridors.
In the spring of 2015, 302 works of art and poetry were submitted by Moorhead residents and students ages 4 to 77 in hopes to be selected and approved to be imprinted in sidewalks.
Walking Map: A preliminary walking map of Art and Poetry stamp locations has been developed.
Donations fund stamps! Thank you to all the generous supporters who made this project possible!
| | |
| --- | --- |
| Abby Gold | Jenny Rodger |
| Amanda Brown | Jeremy Ellsworth |
| Amy & David Thorpe | Jill Rothschadl |
| Amy Anderson | Jim & Bonnie Haney |
| Amy Rice | Jim Elstrom and Sara Sha |
| Andrea & Brian Oxton | Jim Steen |
| Anne Blackhurst | Julie Holgate |
| Anonymous (7) | Kandace Creel Falcon Liz Kuoppala |
| Arlette Preston | Kary Nelson |
| Athena & Ted Gracyk | Kathy Berry |
| Barb Urness | Kevin Zepper |
| Bonnie Blondell | Kovash Marine |
| Brad Delzer | Lana Suomala |
| Brad Olson | Lezlie Johnson |
| Brenda & Corey Elmer | Lisa Bode |
| Brian Gramer | Lisa Mercil |
| Cali Anicha | Lorilee Bergin |
| Carol Schlossman | Lynn Fundingsland |
| Carolyn Wintersteen | M Koskela |
| Carrie Wendt | Magpie Mosaic |
| Cassidy Frickanisce | Mara Morken |
| Charley & Mary Johnson | Mark & Betsy Vinz |
| Cristen Voeltz | Megan Myrdal |
| Crystal Sugar Company | Michael Brown Jr. |
| David Hunstad | Michael Olsen |
| DeAnnHopfauf | Moorhead Ace Hardware |
| Del Rae Williams | Moorhead Scheels |
| Denis & Nelson Richardson | Paradigm Enterprises, Inc. |
| Dennis Krull | Patricia Wisenden |
| Emma & Theron | Ralf Mehnert-Meland |
| Fargo Moorhead Visual Artists (FMVA) | Rebecca Gardner |
| FM Area Foundation | Rustica Eatery & Tavern |
| FM Area Foundation (FJ & Janet Beaton Family Fund) | S. J. Maier |
| FM Convention & Visitors Bureau | Sara Abrams |
| Geneva Nemzek | Scott & Cindy Hutchins |
| Geneva Nemzek | Shireen Alemadi |
| Gia Rassier | Spencer Kelley |
| Grassfire Storytellers | Stacie Olson |
| Haugen Masonry | Steve & Elaine Gehrtz |
| Heather Krause | Su Legatt |
| Holly Heitkamp | Sue Wiger |
| J&A Graves | Tansy Wells |
| James Van Raden | Teresa Norwig |
| Jen & Danny Thomas | Theatre B |
| Jennifer Jenness | Yvette Underdue Murph |
| Jenny & Brad Mongeau | |
If you have questions please feel free to contact art@cityofmoorhead.com or 218.299.5333.
---
This project is inspired by 'Everyday Poems for City Sidewalk' in St. Paul, Minnesota designed by artist, Marcus Young.