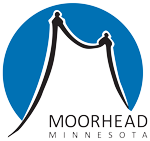 The City of Moorhead logo is an abstract reference to the roofline of Moorhead's most recognizable building, the Hjemkomst Center. The building's unique roofline accommodates the sail of the Hjemkmost Viking Ship, built by the Robert Asp family and sailed to Norway in 1982, now located within the Hjemkomst Center. "Hjemkomst" means homecoming and the Hjemkomst voyage has been a source of pride for this area which has a strong Scandinavian heritage.
The City of Moorhead logo provides visual recognition of the City. It is the City's unique identifier and promotes the City to the public. The logo identifies vehicles, equipment, and structures as belonging to the City and identifies communications from the City.
Logo Use Guidelines
Use of the City logo is governed by our Logo Usage Guide document. Please follow these guidelines when using our logo. Please feel free to contact us if you have questions about the guide or use of our logo.
Download
You may download an archive containing approved versions of our logo in several formats and a copy of our Logo Usage Guidelines.