Volunteers help make our programs and events successful! You can get involved in a variety of ways.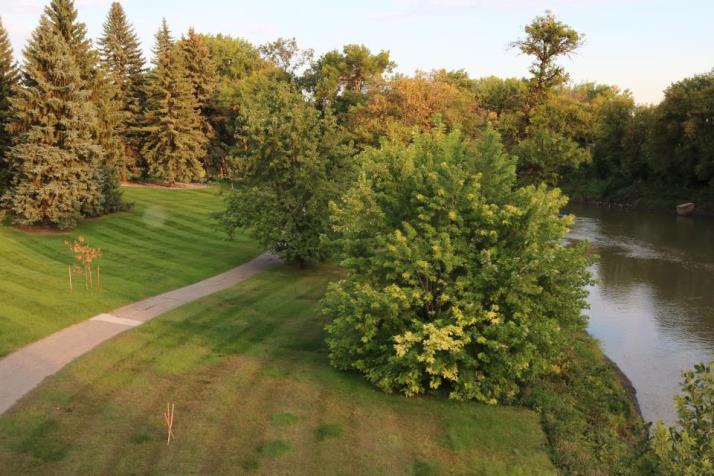 Want to Help?
If you are interested in volunteering, please call 218.299.5078 or complete our Volunteer Application and return it to:
Moorhead Parks and Recreation
Attn: Volunteer Coordinator
1300 15th Ave N, Moorhead, MN 56560
You Are Needed!
Citywide Beautification Opportunities- Parks, Trails, Streets, Ponds, and Flowerbeds
The City Beautification committee developed an ongoing comprehensive plan to help keep Moorhead clean and beautiful by involving our community volunteers to adopt various areas throughout the city.

Volunteers can participate in the beautification program in one or two ways. Adopt an area for the season or if time does not allow this, we always welcome one time groups to serve large or small, as families or as individuals. There are always clean up needs in the city, so we can customize your volunteer experience to what best fits your schedule. If you are interested, please contact the Moorhead Parks and Recreation Volunteer Coordinator at 218.299.5078.

See the maps below for areas that need adopting, and please consider adopting your favorite park, stretch of the river trails, a downtown flowerbed, or one of our streets!

Thank you to all the volunteers that have helped with the beautification program!

Adopt-A-Street
Volunteer once a month from April-October to pick up litter along street right-a-ways. Priority areas have been identified on the Adopt a Street Map.

Adopt-A-Street Agreement


Adopt-the-Red
Volunteer once a month from May-October to pick up litter along river corridors.

Adopt the Red Agreement
Adopt-the-Red Maps

Adopt A Flowerbed
Volunteer the end of May and throughout the summer/fall by planting flowers and maintaining area in downtown Moorhead along 4

th

and 5

th

Street or in the quiet zone areas.
Adopt-A-Flowerbed Agreement


Adopt-A-Park
Volunteer biweekly April-October to help maintain our parks through litter pickup and raking leaves.

Adopt-A-Park Agreement
Adopt-A-Park Maps

Adopt-A-Pond
Volunteer once in the spring and once in the fall to clean up the shores of stormwater ponds.
Adopt-A-Pond Agreement
Adopt-A-Pond Maps

Volunteer Position

Duties

Beautification
Opportunities available for individuals and groups to help with park clean up, river bank clean up, corridor clean up, and flowerbed adoptions
Youth Baseball Coach
Adult coaches are needed to teach the basic fundamentals of baseball to youth ages 5 through 4th grade
Flag Football
Coach

Adult coaches are needed to teach fundamental of flag football to youth in kindergarten through sixth grade.

Lil' Linker Golf Instructors

Youth (17 and older) are needed to instruct participants on the basics of golf.

Special Event Volunteer

Volunteers assist with a variety of tasks during special events throughout the year

Hjemkomst Center
Volunteers are needed to greet and give directions to visitors
Volunteers help make our programs a success! Groups and individual volunteers are greatly appreciated for their hard work and gift of time and talent in helping to make Moorhead a great place.
Thank You Volunteers!

Alyssa Nelson

Amanda Oanes

Amanda Wheeler

American Crystal Sugar

Andrea Sattler

Aubray Johnson

Becky Mayers

Bethany Candelaria

Billi Jo Zelinski Family

Bjornson Tree Care & Landscaping

Brian Fuder- Square Foot Gardening for RRV

Chris Martin Family

Clark and Randi Weisser

Clay County Abstract Company

Community Juvenile Work Crew

Community Service Youth Group

Concordia Handball Team

Cory Francis

Creative Clover 4-H Club

Cricket Wireless

Curran Family

Fargo South Bruins

FedEx Ground

First Presbyterian Church of Moorhead

Gate City Bank

Girl Scout Troop 30475

Heat Transfer Warehouse

Inspire Innovation Lab

Jeffrey Blaseg Photography

Jordan McCleery

Keith Francis & Sons Construction

Kostohryz Fmaily

Kraft Family

Larry & Ann Anderson

M State Wellness Committee

Mallard Creek

Mara Morken

Moms Club of Fargo-Moorhead

Moorhead Midday Central Lions

Moorhead Public Schools

Moorhead/Sabin Girl Scout Troops 30475/30928

MSUM

MSUM Office of Undergraduate Admissions

NDSU Environmental & Conversation Sciences

NDSU Volleyball

Noridian IT Group

Peace Lutheran Church

RDO Equipment Company

Rickey Jacobson

Ronda Johnson

Rosson Family

Ryan Sandven

Salem Evangelical Free Church

Smith Family

Scouts BSA Troop 5271G

Soroptimist International of Moorhead

SS Ruby Boat Tours, LLC

St. Joseph's Catholic Church

Steve Moore Family

Sylvia Garcia

Troop 276 BSA

UMN Extension Master Gardners of Clay County

Vikingland Kiwanis

YMCA of Cass/Clay Counties at Dorothy Dodds