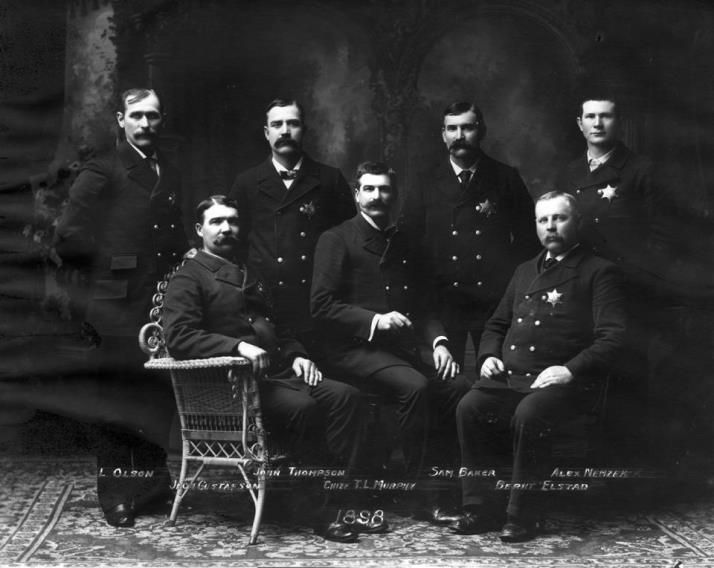 The City of Moorhead was founded in 1871 when the Northern Pacific Railway reached Clay County on its way to the Pacific Ocean. The city was policed by town marshals beginning March 24, 1875. The first town marshal, Chas. Jungroth, earned $43 per month to keep the peace. On March 22, 1881, the Police Department was created. The first Chief to serve was H.E. Eutice. During his tenure as Chief, a few irregularities in the City's routine of business occurred. On April 6, 1882, a grand jury brought an indictment against Chief Eustis for embezzlement. There had been a robbery at the Bramble House which netted the robber $103. He was apprehended and the money confiscated, but the Chief neglected to turn the money over to the court.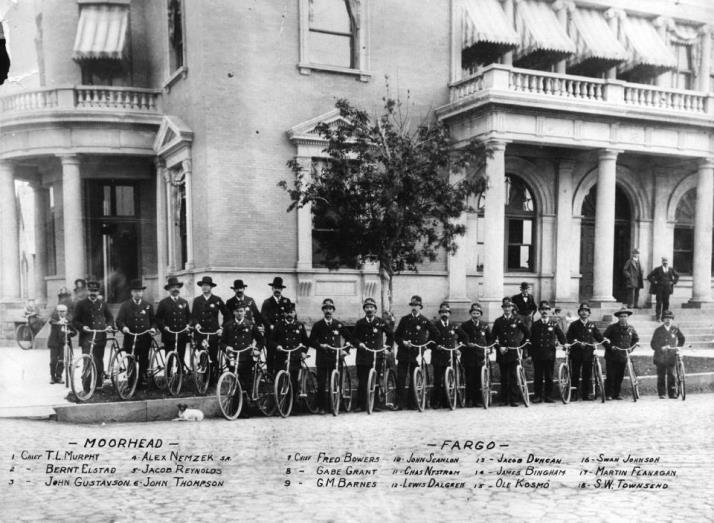 In August 1883, the City's policemen demanded an increase in salaries. On August 6, the City Council met to consider the matter, but took no action. The next morning the policemen marched to the City Hall and laid down their arms, leaving the City without police protection. Since there were no officers, one of the commissioners had to take the "chain gang" out for exercise. One of the boys made a break for liberty and North Dakota, achieving both. A special meeting was held by the City Council and the policemen were given $10 a month raise. They returned to their jobs and equilibrium was restored. By 1888, the department would grow to eight officers. There are now 60 sworn officers on the department.
The Police Department continued to grow along with the town and its neighbor across the Red River in Fargo, North Dakota. When North Dakota became a state in 1889, the sale of alcohol was banned. Moorhead became a haven for bars and the trouble that came with it.
The initial location of the Police Department was at Center Avenue and 4 Street, where the Moorhead Center Mall now stands. The current Law Enforcement Center, at 911 11 Street North, houses the Police Department and Clay County Sheriff's Office.
The Police Department has lost three officers in the line of duty. Their biographies and stories can be viewed on the Officer Down Memorial Site.
1888 – Officer Peter Poull
Shot and killed by a murder suspect while assisting two other officers taken hostage at gunpoint at 8 Street and Center Avenue, where Wells Fargo now stands. The suspect was convicted and executed on September 20, 1889.

1899 – Officer Alexander "Sandy" McClean
Struck by falling debris while clearing people away from a house fire in what is now Viking Ship Park north of the Hjemkomst Center.

1930 – Officer Roy Larson
Shot and killed by Ray Liggett, a bank robber who fled from Fargo Police. Larson cornered the suspect near the coal shed of the Interior Lumber Company after several shoot outs with other officers. The suspect was arrested and sentenced to life.