Below is a list of news items for the City of Moorhead with the most recent items at the top. If you would like to see news for a certain category, you can select it from the the drop-down box labeled (All Categories). Any news older than 90 days is automatically archived and removed from this list.
You can also subscribe to our eNotifications to automatically receive emails as we post news to the site.
Rotary Natural Play Hill Construction Planned for Summer 2023
Project Will Bring All-Season Outdoor Fun for Local Families
Post Date:
01/04/2023 9:20 am
The FM Rotary Foundation and the City of Moorhead announced on January 4 that construction will commence on the 1.26-acre Rotary Natural Play Hill at Riverfront Park in the summer of 2023. The project, in planning since 2018, will provide the community an inspiring hilltop play area overlooking the Red River, with opportunities for unstructured play, interactive learning and year-round outdoor physical activity. The play elements include a 26-foot high Tree House with a rope bridge to another tower, a zip line, log and boulder areas, tunnels, play mounds, balance beams, nets and climbing areas. The playground's location was strategically selected for its proximity to downtown Moorhead, downtown Fargo, the Midtown Moorhead Bike Trail, a sledding/viewing hill, and the community's only lit cross country ski trail.
The project, led by the 5 Fargo-Moorhead Rotary Clubs, has raised nearly $1 million with the generous support of nearly 200 donors, including major donors the John Ballantyne Fund, the Fargo-Moorhead Convention and Visitors Bureau, Scheels Foundation, Sanford Health Foundation, KLJ Engineering and Essentia Health Foundation. Over 100 Rotary members have contributed to the project. To complete the project in its entirety, additional funds are needed, so fundraising is ongoing and 5-year pledges are available.
The playground will be free and open to the public and upon completion, the playground will be donated to Moorhead Parks, who will provide regular maintenance and upkeep. "This project will be an incredible addition to Riverfront Park, and the City of Moorhead is grateful to the FM Rotary Foundation and all five local Rotary clubs for the vision, planning and fundraising it took to make this a reality," said Holly Heitkamp, Moorhead Parks and Recreation Department Director. Landscape Architecture services have been provided by Confluence (Fargo office), and Construction Management services have been led by Gast Construction.
There will be a public groundbreaking ceremony in the spring of 2023 at the playground site at Riverfront Park to celebrate the construction kickoff. Children and supporters will be able to place written wishes for future generations in a time capsule that will be buried at the site.
Design renderings for the project are below.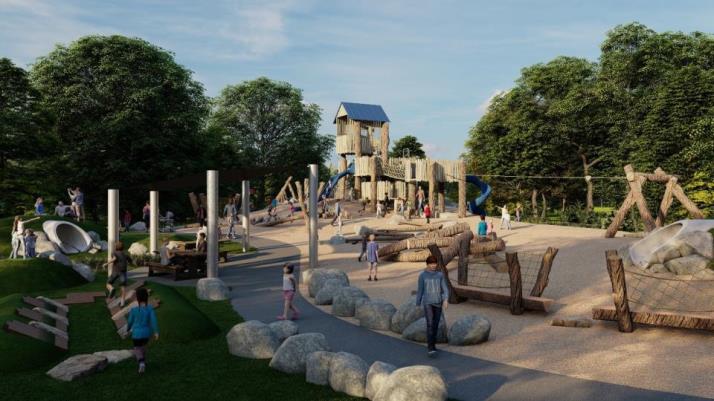 Contact: Heather Ranck, Project Chair
Email: haranck@yahoo.com
Ph: 701-361-3709
More >>