Below is a list of news items for the City of Moorhead with the most recent items at the top. If you would like to see news for a certain category, you can select it from the the drop-down box labeled (All Categories). Any news older than 90 days is automatically archived and removed from this list.
You can also subscribe to our eNotifications to automatically receive emails as we post news to the site.
Educator Brian Cole wins MoorHeart award
Post Date:
09/12/2022 7:00 pm
Congratulations to Brian Cole! On September 12, the Moorhead City Council and Mayor Shelly Carlson presented him with the MoorHeart award.
Brian is the orchestra instructor for grades 5-8 at Horizon Middle in Moorhead. Along with being a respected orchestra teacher, he is committed to finding ways to stay connected with residents of Moorhead past and present, and advocating for potential residents to make Moorhead home. Brian encourages everyone in Moorhead to get involved with our community and connect with those who live here.
Brian lifts up the City of Moorhead in so many ways. He shared his enthusiasm for the community in his feature participation in Moorhead's "Where the Strong Belong" video in 2019, indicating in his remarks, "I think when you have a strong community, you are going to have a sense of belonging." His orchestra motto is "life lessons through music," and the five values he instills in his pupils are life, joy, peace, patience, and kindness. Each of these – the motto and values – help kids develop necessary life skills.
He also facilitates the Moorhead Spud History Facebook page and provides research for the Spud History Book, a project that will commemorate the first 150 years of Moorhead Area Public Schools. That project was commissioned by the Moorhead Legacy Education Foundation, where Brian serves as the Community Relations Coordinator. This (almost) five-year project will be turned into a book containing photographs and stories and will be sold throughout the community; proceeds will go toward scholarships for future Spud graduates. "Spud Spirit" is in Brian's DNA, and he uses those skills and talent to inspire Spud pride throughout the student body through scheduling Spuddy mascot appearances, creating fun videos, and so many other creative ways. Paula Krogen, who nominated Mr. Cole, highlights some of his great attributes:
"Mr. Cole is my children's orchestra teacher. He could, however, be called Mr. Moorhead for all the positive promotion he does for our great City! He is at all sorts of extracurricular events, not only musicals but athletics cheering on the Spuds. He attends all home football games, takes his bike to greet track kids running for practice and hands out treats, and helps with theater in town including FMCT. He has been at a community speaking event during COVID called Leading the Conversation. He also takes students to Minneapolis to play the National Anthem at the Twins games and to compete in competitions – but demands they be good citizens by using the rapport he builds with them all year. Not only does he want an award-winning orchestra (which he has) but for each of his students to be happy and healthy citizens showing kindness and respect. He remembers details about each student, and he is just a terrific role model for our students and community!"
For all Brian Cole does for Moorhead – and especially for the way in which Brian connects the citizens of Moorhead – the MoorHeart selection committee chose Brian to receive the MoorHeart Award. Brian is a great example of the MoorHeart spirit and a terrific mentor in our school district. Congratulations to Brian for fostering the continuity of Moorhead's collective story and embodying what it means to be active and involved in our ever-growing community!
The MoorHeart award is an opportunity to recognize individuals who go above and beyond to demonstrate community within our City by their actions and service. A team of volunteers from city boards and commissions selects award recipients. The MoorHeart award is commemorated with a piece of art commissioned from Moorhead-based artist Karman Rheault especially for this purpose.
Information on nominating individuals/organizations for the MoorHeart award can be found here. Contributions large and small are worthy of nomination!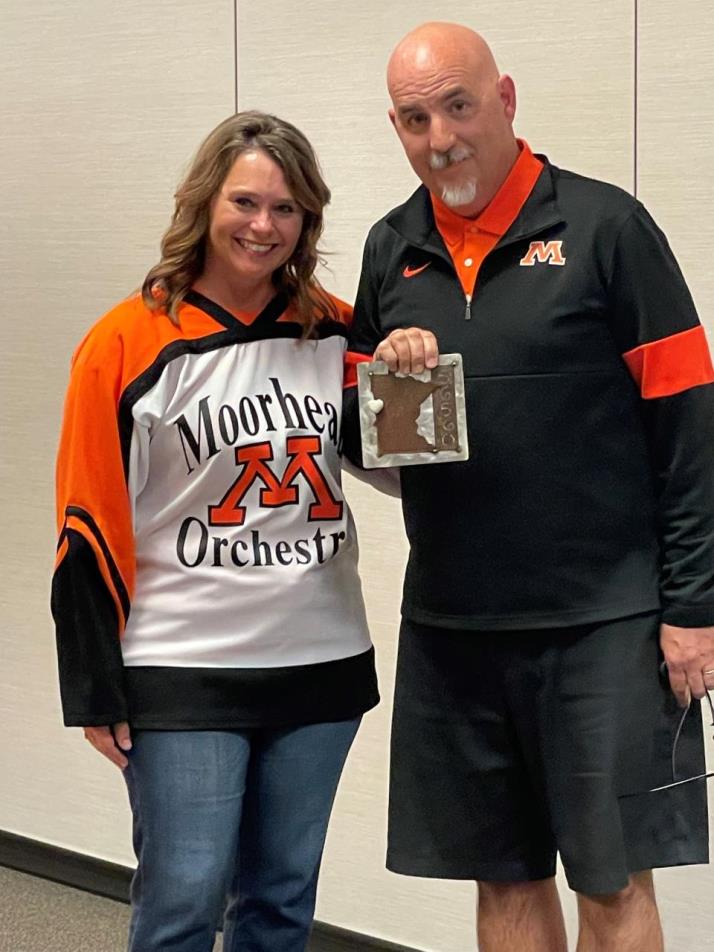 More >>