Below is a list of news items for the City of Moorhead with the most recent items at the top. If you would like to see news for a certain category, you can select it from the the drop-down box labeled (All Categories). Any news older than 90 days is automatically archived and removed from this list.
You can also subscribe to our eNotifications to automatically receive emails as we post news to the site.
Center Avenue reconstruction project to begin Monday, June 6
Post Date:
06/01/2022 2:00 pm
The planned reconstruction project along Center Avenue in Downtown Moorhead will begin on Monday, June 6. This project will involve the closing of Center Avenue. The project is expected to be completed by the end of October and will be divided into two main phases:
Phase 1 will affect the area from the Red River bridge to 6 Street and is expected to last until late August.
Phase 2 will affect the area from 6 Street to 8 Street and will begin when Phase 1 is completed.
Both phases will include street and utility improvements including new pavement, lighting, sidewalks, storm sewer and landscaping.
During one or both phases, businesses along Center Avenue may need to be accessed through alternate routes. During Phase 1:
The Moorhead Center Mall should be accessed via 3 Street, 4 Street or 7 Street.
US Bank can be accessed via 4 Street or 5 Street (south of Center Avenue).
Scheels can be accessed by 5 Street south of Center Avenue.
American Federal Bank may be accessed using the parking areas of Scheels or Moorhead Billiards.
Moorhead Billiards and Wells Fargo may be accessed from Center Avenue.
This reconstruction project will make Center Avenue safer and more accessible to traffic and pedestrians. Updates will be shared as the project progresses.
To ensure you receive future information on this project, please sign up for eNotifications and check the box for 19-A2-02 – Center Avenue Reconstruction.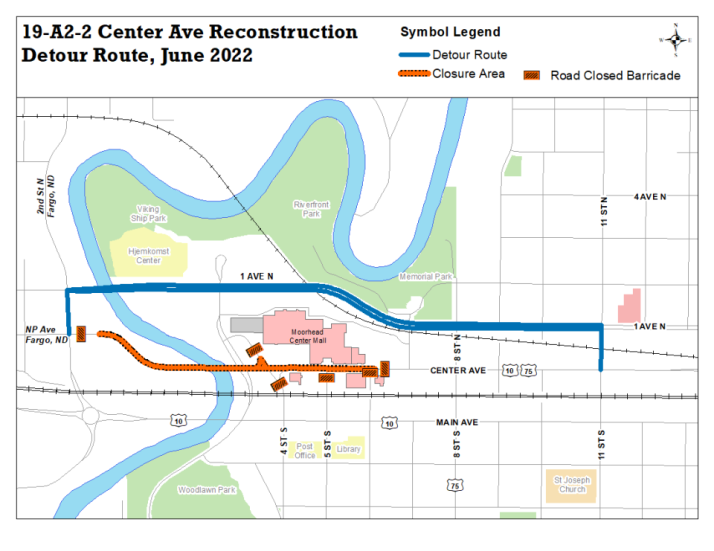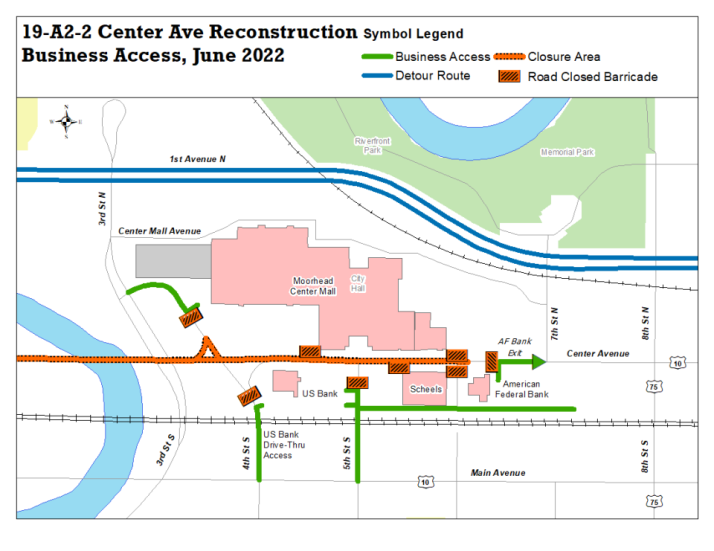 More >>