Below is a list of news items for the City of Moorhead with the most recent items at the top. If you would like to see news for a certain category, you can select it from the the drop-down box labeled (All Categories). Any news older than 90 days is automatically archived and removed from this list.
You can also subscribe to our eNotifications to automatically receive emails as we post news to the site.
Moorhead Prepares for Emerald Ash Borer with Assistance from Minnesota DNR
Post Date:
01/07/2022 8:43 am
The City of Moorhead has received a $60,000 grant from the Minnesota Department of Natural Resources (DNR) to remove public ash trees in an effort to address the pending arrival of emerald ash borer (EAB) in our community.
EAB is a wood-boring beetle native to Asia. It was first detected in the United States in Michigan in 2002, and by 2009, EAB had been discovered in St. Paul, MN. This invasive beetle has been found in 35 states and 5 provinces, killing hundreds of millions of ash trees (Fraxinus sp). Ash species in Moorhead that belong to the genus Fraxinus and are susceptible to EAB include green ash, black ash, and white ash. Other tree species are not susceptible, including the many varieties of mountain ash.
Ash trees comprise nearly 26% of the 26,500 trees in Moorhead's urban forest. While EAB has not yet been found in Moorhead, it is confirmed to have advanced along the I-94 corridor as far north as Sauk Centre. EAB has also been found in many counties in southern Minnesota; Sioux Falls, SD; and Winnipeg, Manitoba. The Moorhead Forestry Division continues to inspect and monitor public ash trees within City limits for EAB infestation.
The DNR grant provides funds to hire professional contractors to remove approximately 175 existing boulevard and park ash trees that have significant structural defects or declining health. Public Works' Forestry Division has been removing declining ash trees for several years at an average rate of 110 per year. This grant will more than double the annual removal rate. Upon removal of the identified ash trees, the City will plant replacement trees of varying species in 2022 as its matching commitment to the state grant.
The City of Moorhead has developed a long-term EAB management plan to prepare for the arrival of EAB. The management plan will recommend and implement the most effective and efficient practices to manage the urban forest for EAB.
Please follow the City of Moorhead Facebook page this year for periodic photos on the EAB management project!
(This picture shows an ash tree in declining health.)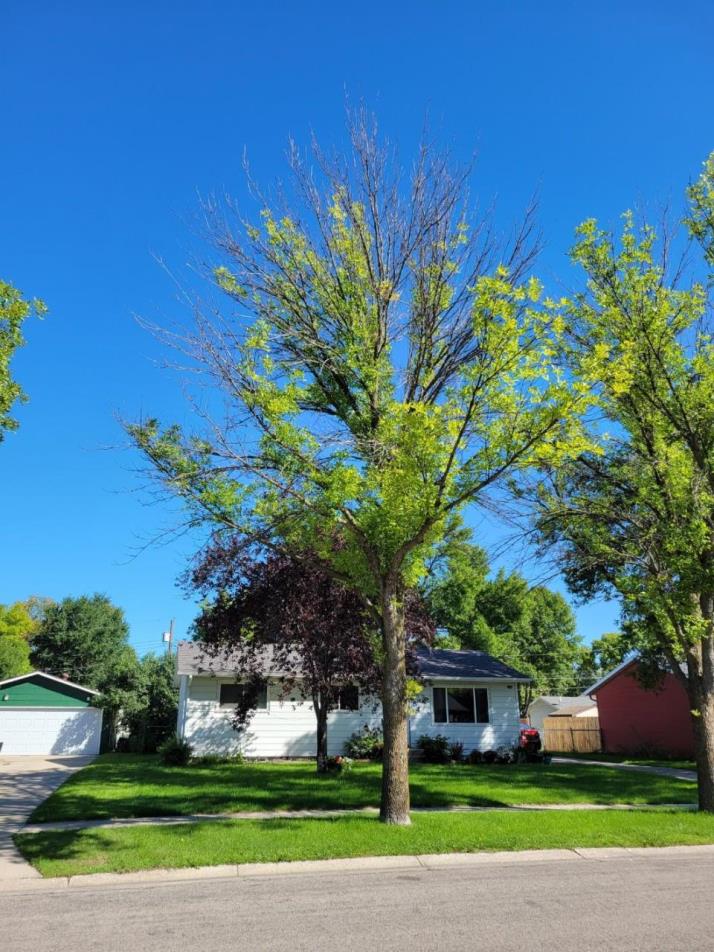 More >>