The calendar below shows all public meetings and City of Moorhead events across all departments and categories. You can click on an event to see more details on it. If you would like to see events for only a certain category or department, you can select it from one of the drop-down boxes below.
You can also subscribe to our eNotifications to automatically receive emails about new events on our calendar.
Reimagine Romkey Open House
Moorhead Parks and Recreation is seeking funding to upgrade Romkey Park by investing in a new pool and additional park facilities. Community input is needed to help shape the future of this highly utilized park! The public is invited to an open house 4-6 pm Monday, November 7, at the Romkey Park Neighborhood Recreation Center, 800 19 St S, Moorhead, to learn more about the project and share ideas. Additionally, a website has been created where citizens can share comments via an interactive map and brief survey.
While Moorhead is home to nearly 45,000 people, the Romkey Park municipal pool is the only all-ages outdoor public pool in the city. The concrete in-ground Moorhead Municipal Pool was built in 1958 and has been in use for 64 years, far surpassing its life expectancy of 25-40 years in our northern climate. The whole of Romkey Park is also in need of improvements to meet the demands of a growing and inclusive community.
Proposed improvements to Romkey Park will be heavily based on public input. Existing amenities at the park include the municipal pool, neighborhood recreation center, playground, small food forest and basketball and bocce courts. Additional amenities in consideration include a skate park; splash pad; wading pool/zero entry pool; diving board or slide; tennis, pickleball and sand volleyball courts; seating areas and passive spaces; community room within the park building; sledding hill; skating rink; soccer field; expanded food forest; public art and an open-air shelter.

Facebook event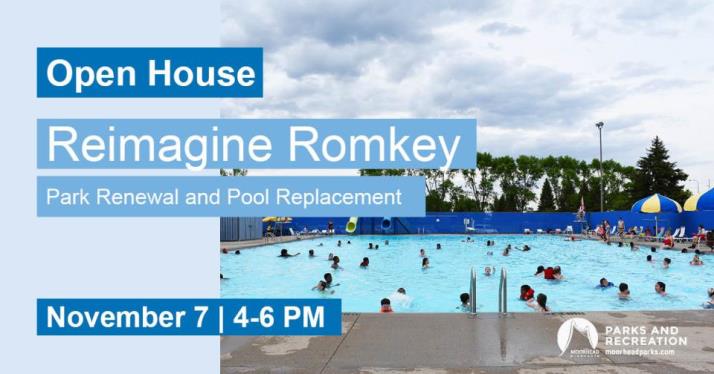 More >>