The calendar below shows all public meetings and City of Moorhead events across all departments and categories. You can click on an event to see more details on it. If you would like to see events for only a certain category or department, you can select it from one of the drop-down boxes below.
You can also subscribe to our eNotifications to automatically receive emails about new events on our calendar.
Pumpkin Party Pick-Up
The Pumpkin Party Pick-Up was a great success in 2021 with nearly 250 pumpkin gourds and goodie bags given away! We'll see you at Memorial Park for the return of this event Thursday, October 20.
Kids ages 13 and under, parents and guardians can pick up a pumpkin gourd and paint kit at Memorial Park between 3 and 6 pm on Thursday, October 20.
Take the pumpkin home and paint your creation!
Take a photo of you in your costume with your masterpiece.
Send your photo and a completed submission form to parkandrec@cityofmoorhead.com for a chance to win a prize! Winners will be announced on Halloween.
Cut down on waste this Halloween season by composting your pumpkins November 1-14! Be sure to wash or cut off any parts of your pumpkins covered in paint, glitter, candle wax or other decorations to ensure they are suitable for composting.
Save the dates for more Halloween fun! Tuesday, October 25, wear a costume and get your skate on at the Ridgewood Skate Skelebration 6:30-8:30 pm! The Monster Mash Trunk-or-Treat returns to the Moorhead Center Mall parking ramp on Halloween, October 31, 5-7 pm.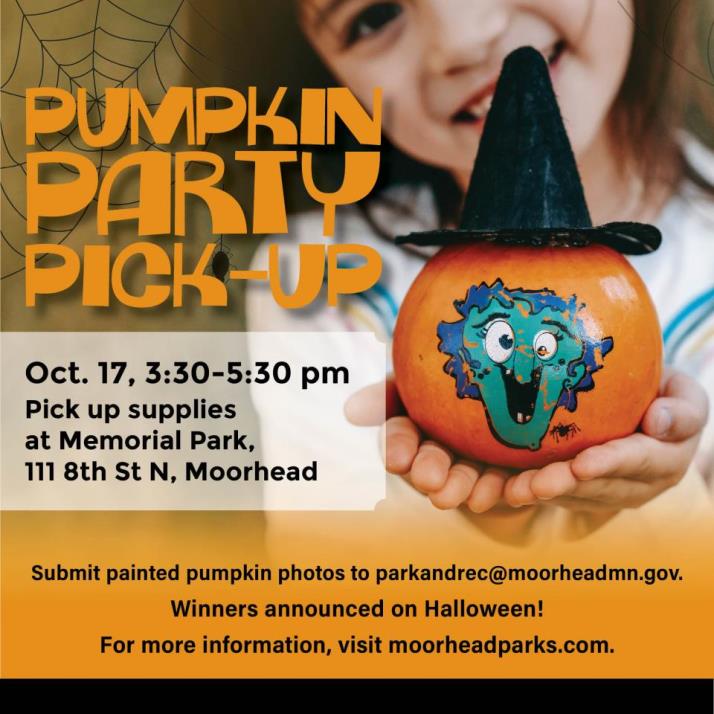 More >>