Below is a list of news items for the City of Moorhead with the most recent items at the top. If you would like to see news for a certain category, you can select it from the the drop-down box labeled (All Categories). Any news older than 90 days is automatically archived and removed from this list.
You can also subscribe to our eNotifications to automatically receive emails as we post news to the site.
Pursuit of Stolen Vehicle
Post Date:
01/27/2020 5:33 am
On 1/27/20 at approximately 12:45 AM, a Moorhead Police Officer located a stolen vehicle at the Holiday Gas Station located at 725 30th Avenue South. As the Officer was preparing to take enforcement action, the vehicle fled out of the parking lot and northbound through residential neighborhoods. The Officer terminated the pursuit due to high speeds. The vehicle was last seen traveling eastbound in the 1100 block of 12th Avenue South in Moorhead.
The stolen vehicle is described as a 2015, black, Hyundai Santa Fe displaying North Dakota license plates 975CJW. The vehicle has stickers in the back window, including a large "Punisher" skull decal.
The investigation to locate the vehicle and identify the driver is ongoing. Anyone who sees the vehicle are asked to call the police department where it's located and not approach it or any occupants.
-Sergeant Joel Voxland, 218.790.4015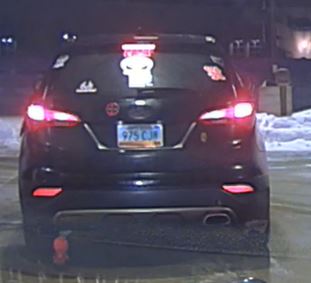 More >>