Moorhead Parks & Recreation and River Keepers have partnered to offer the following activities.
Canoe and Kayak Rentals
May 29-August 28
Tuesdays - 6-8 pm
Saturdays - 1-6 pm
Sundays - 1-6 pm
$10.00/hour, per vessel

All vessels are rented on a first come, first served basis. Vessel rental is for use at the Hjemkomst Landing only.
Group Paddling Rentals
To rent 5 or more vessels:
Minimum of 2 hours or a $100 minimum rental fee.
Reservations are not available during regularly scheduled rental hours (see above).
Reservations must be made at least 7 business days in advance by calling 218.299.5296.
All group paddling rental reservations are scheduled dependent on staff availability.
River Paddling Excursions
All skill levels are invited! Each session begins at 6 pm with the basics of canoeing and kayaking. Please arrive at 5:30 pm. Vessels are available on a first come, first served basis.
$15.00/person, for canoe/kayak rental OR $10.00/person, if providing your own vessel.
Children 5 years and under free.
August 15
- Animals and Habitats, hosted by Nicole Lee
Learn about the many habitats of wildlife living along the river.

On-the-Water-Cleanup
September 10
5:30 pm (makeup date: September 11)
Hjemkomst Landing
Participants MUST be comfortable in a canoe and willing to get wet and dirty. Contact Kim at kimberly@riverkeepers.org for more information.
Adopt the Red
Volunteer in May-June and/or September-October to pick up litter along river corridors (10 river zones to adopt).
Adopt the Red Agreement
Adopt The Red Map

For more city beautification information, visit the Volunteer section of our website.
Boat Launches and Shore Fishing

M.B. Johnson Park Launch
Convent Landing (North of Riverview Place)
Dike East Launch
Cast your line on the Red! Enjoy shore fishing at Gooseberry Park, Viking Ship Park, Riverfront Park, Memorial Park, North Dam, River Oaks Park - South Dam, and M.B. Johnson Park (boat ramp available).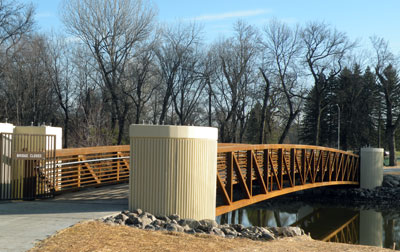 Pedestrian Bridges
Gooseberry Park to Lindenwood Park
100 22nd Ave S
Davy/Memorial Park to Oak Grove Park
210 8th St S
Woodlawn Park to Dike East
400 Woodlawn Drive

Bridge Status
River Corridor Plan

Since approval of the
River Corridor Plan
in May of 2014, there have been numerous projects that have been completed or are underway along the River Corridor. Projects in 2018 include:
Replacement of pedestrian bridge crossing the Red River between Memorial Park in Moorhead and Oak Grove Park in Fargo
Bike Repair Stations at MB Johnson and Gooseberry Parks provided by Fargo-Moorhead Rotary PM Club.
MB Johnson Park Projects: fish cleaning station, interpretive signs and bike/pedestrian bridge over Snakey Creek
River Corridor Trails Map (subject to change)
Urban Woods and Prairies Initiative - Audubon Dakota - Moorhead UW&PI Sites
Gooseberry off-road trails courtesy of FM Trailbuilders
Adopt the Red Volunteer Program
Canoe and Kayak Rentals
Collaboration with River Keepers, including: canoe/kayak rentals, paddling excursions, Storm Drain Marking Program, Red River Water Festival, adopt programs, community education and outreach events, tree plantings, and downtown and on-the-water litter pick up