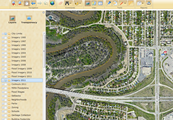 Property Information
This is an interactive GIS map that allows users to access and query property information and different layers of City of Moorhead information. Current and historical aerial photography are available, including aerial photos of flood crests from the latest major floods.

Current FEMA FIRM
This is an interactive GIS map displaying the current FEMA Floodway, 100 year and 500 year floodplains. You can search by property address to view and print a detailed map showing how the 100 year floodplain (SFHA) may affect your property and any structures on the property.
2017 Engineering Construction Projects
This map displays the construction projects for the 2017 construction season in the City of Moorhead. It also shows roads that are closed and the associated detours.
Click on a project for additional information that will display in a pop-up window.
This map provides information on Red River flood stage levels that may affect pro
perties and structures in the City. These 1/2 foot river flood stages were derived from LiDAR data acquired in May of 2011.
Blue areas show river flooding
Red areas reflect the protected areas that benefit from the City's flood mitigation projects completed since the spring of 2009
Emergency protection measures, such as temporary clay levees, are also represented as protected areas in this interactive web map.
Disclaimer: This map information is made available as a public service, and is to be used for reference purposes only. The City of Moorhead, MN, makes no representation or warranties, express or implied, with respect to the use or reuse of the data provided herewith, regardless of its format or the means of its transmission. The map information is provided "as-is" with no guarantee or representation about the accuracy, currency, suitability, performance, merchantability, reliability, or fitness of the data for any particular purpose. Moorhead, MN, shall not be liable for any direct, indirect, special, incidental, compensatory or consequential damages or third party claims resulting from the use of this information, even if the City of Moorhead, MN, has been advised of the possibility of such potential loss or damage.
These maps are not a substitute for accurate field surveys.