Below is a list of news items for the City of Moorhead with the most recent items at the top. If you would like to see news for a certain category, you can select it from the the drop-down box labeled (All Categories). Any news older than 90 days is automatically archived and removed from this list.
You can also subscribe to our eNotifications to automatically receive emails as we post news to the site.
Construction Update: SE Main|20 St|21 St Underpass Project
Post Date:
05/31/2019 7:00 am
There will be 24-hour construction by Ames Construction, the primary contractor for the underpass project for a 3-week period beginning approximately June 10, 2019 to regain schedule progress that was impeded by circumstances beyond Ames' control.
The City Council granted the overnight construction request after consulting with area residents, most of whom felt that the noise and disruption would be offset by the opportunity to possibly have the underpass closer to operational before the end of 2019. The schedule is still very tight. Weather delays and additional coordination with the railroad may still prevent a 2019 opening. However, not allowing the extended hours would have certainly meant that the underpass would not be operational until 2020.
Detail on overnight hours:
• Extended schedule begins on or about June 10 for three weeks after BNSF temporary track completion.
• Operational hours are 7 am Monday until 5 pm Saturday.
• Work conducted overnight will include hauling and excavation only. Piling will occur only during daytime hours.
• Truck haul routes have been planned so that trucks will almost always be driving forward, and the contractor will swap out the type of reverse beeper (required by OSHA worker safety laws) on the excavation equipment with one that makes a less objectionable noise to minimize neighborhood impacts.
• Truck traffic will be using 21 St to Highway 10 or SE Main to 12 Ave S to 34 St and Highway 10.
• A request is pending for another period of overnight operations in September when the permanent rail tracks are completed. The City will conduct additional outreach with the neighborhood and determine whether it would make a difference in the construction schedule before acting on this second request.
Other project notes:
• Rainfall has increased mud tracking onto the roads and walkways. You'll notice more cleaning occurring to control this issue.
• Areas around Moorhead High School and other areas where construction is complete will soon be graded and seeded.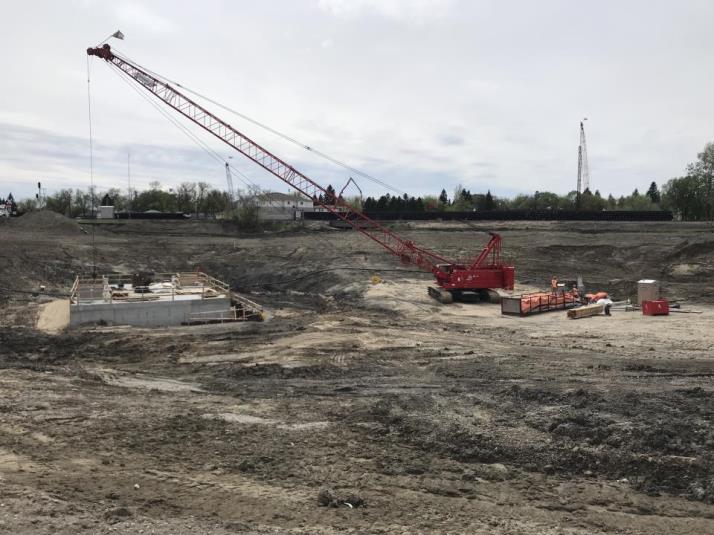 Questions or concerns? Please reach out to City Inspector Levi Hockett at 218.299.5396 or contact the Engineering Department. We want to minimize the impact of the construction on neighboring properties to the extent feasible.
For updates on this and other construction projects in Moorhead, please visit our Current Projects page.
Lisa J. Bode, Governmental Affairs Director, 218.299.5372
More >>