Below is a list of news items for the City of Moorhead with the most recent items at the top. If you would like to see news for a certain category, you can select it from the the drop-down box labeled (All Categories). Any news older than 90 days is automatically archived and removed from this list.
You can also subscribe to our eNotifications to automatically receive emails as we post news to the site.
34 St S / Hwy 10 intersection traffic improvements made
Public Works making 34 St S bridge top priority in snow events
Post Date:
11/29/2018 1:48 pm
The long-term detours from Southeast Main|20|21 Street have moved much more traffic onto 34 St S. With the increase in traffic volume, there has also been some increase in auto accidents at 34 St S and Hwy 10. Some of those accidents are occurring on the bridge directly before and after the intersection (depending on the direction of travel).
Commuters may have noticed left-turn signal upgrades and new pavement markings at the intersection of 34 St S and Hwy 10 added recently. Pavement marking denote 2 left turn lanes onto Hwy 10 from northbound 34 St S—one onto the frontage road and the other onto Hwy 10. The traffic signal now provides the flashing yellow arrow to allow additional vehicles to make left turns when traffic allows.
As we also enter winter driving season, all bridges, including the 34 St railroad bridge, are susceptible to freezing. The City's Public Works Department makes the 34 St railroad bridge its top priority during snow events, but extra caution by drivers is warranted as snow events occur.
The signal upgrades and pavement markings added to the 34 St S and Hwy 10 intersection will help manage traffic flow. Drivers, please do your part:
Pay attention. Put your phone down and limit other distractions when you are driving.
Slow down. The posted speed limit is a guide, but use extra caution during winter months. You will need to drive slower on fresh snow or icy roads.
Stop early. Begin stopping earlier when approaching another vehicle, stop sign, red light, or yield sign. The dry pavement following distance is three to four seconds. When driving on snow covered or icy roads following distance should increase to eight to ten seconds (Reference: AAA).
Thanks for making the roads safer for everyone!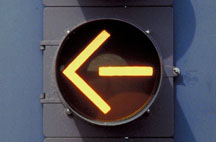 Lisa Bode, Governmental Affairs Director
More >>