Streets are plowed following a set schedule which begins when snow reaches 2 or more inches during a single event and the snowfall is starting to end. Snow_Routes
Snow removal equipment is challenging to operate, requiring intense concentration of the operator. Please provide equipment operators a wide area to maneuver and do not attempt to talk to the operator. Operators have been instructed to continue working when approached. They are following City policy and attempting to talk to them only slows down the snow removal process.
Plowing Schedule and Process
Snow Emergency primary and secondary routes along with main thoroughfares are plowed first followed by residential streets.

Several passes on the snow routes will be made during a prolonged event.
The first pass made may be 1-2 feet away from the curb or more for heavier snow, to speed the process.
This is usually completed 10-12 hours from the start of plowing with the plows beginning from midnight to 2:00 am.
Snow is moved from the center of the street to the curb and placed as equitably as possible on the boulevards.

After the initial clearing, a second pass will be made during the following scheduled street maintenance day.

If a holiday falls on that day, the second pass will occur on the next non-holiday maintenance day.

There is no way to prevent accumulation of snow pileup on driveways and sidewalks.

Streets staff will not clean private driveways or sidewalks.
Plows will not return if a car is left on the street with snow plowed around it.
Streets staff stay 1-2 feet away from mailboxes to prevent damage and will not plow out space around the mailbox.
Streets will not continue to plow unless there is new snowfall to be cleared.

Process for cul-de-sacs

Small snow events: Snow is plowed to the outside curb.
Large snow events: Snow will be piled in the center and hauled away later.
Stakes are sometimes placed to provide equipment operators with guides to where the curbs are. Please do not remove them.
It is against both State of Minnesota law and City Ordinance to place snow or ice back on the street when cleaning your property. No business is to move snow or ice across a street without physically picking it up and moving it. If you see anyone placing snow or ice back onto the street, please report it to Police or call 218.299.5120. Violators will be fined.
Never place garbage carts or bags on top of snow banks. Garbage carts should be placed within 4 feet of the curb line, but at least 2 feet from any snow banks. If snow is more than 4 feet wide, garbage crews will still get the containers pla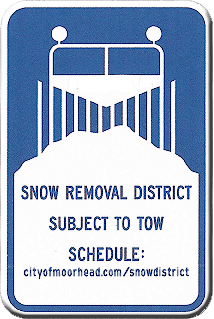 ced behind the curb line.
Snow Removal Districts
During a Snow Removal Declaration, special parking rules take place in the Snow Removal Districts of the city. These parking restrictions allow City crews to better plow roads and for emergency vehicles to travel safely. Snow Removal District enforcement areas are marked with the sign shown to the right.
In order to clear the roads effectively, vehicles in violation of these parking rules will be towed at the owner's expense.
Please see the Snow Removal District page for more information and to sign up for notifications when these parking restrictions are activated.
Parking Restrictions
Snow emergencies are declared because of falling snow, sleet, freezing rain, or when a forecast by the National Weather Service indicates that weather conditions could create hazardous travel conditions. Snow emergencies are declared to free up hazardous roadways for movement of fire, health, police and emergency traffic, as well as to ensure the safety of the community.
Parking restrictions on snow emergency routes take effect:
During a snow emergency, parking prohibition on primary snow emergency routes takes effect.

Parking prohibitions may also be placed on secondary snow removal routes. While this additional prohibition is in effect, no person can park on a secondary snow removal route between midnight and 8 pm.

When there is an accumulation of at least 3 inches of snow for one hour or more.

These restrictions apply between 6 am and 11 pm.
During a snow emergency, vehicles must be moved for plowing. If your vehicle is parked in violation of the snow emergency rules, it may be towed.
View the snow emergency route map.
Salting/Sanding

Salting and/or sanding occurs both during and immediately following a snow or ice event on the primary and secondary snow routes. The proportion of salt and sand will depend on temperature. Snow and ice removal crews will salt and/or sand the residential streets after the initial snow is cleared. Residential streets treated with salt and/or sand will primarily be in higher traffic areas and residential streets feeding into primary or secondary snow removal routes.
Anti-icing

Anti-icing is a proven technique to improve road conditions during snow and ice events and improves effectiveness of plowing after snow and ice events. A brine solution blended with a carbohydrate additive is used depending on pavement surface temperature. Anti-icing will take place prior to a snow or ice event if the appropriate weather and road conditions exist. Anti-icing will be conducted along primary snow routes and typically when streets are dry, winds are less than 15 mph and there is no blowing snow. The Public Works Director is the decision authority for anti-icing applications.
Shoveling Your Sidewalk
Property owners are responsible for removing snow and ice from the sidewalks adjacent to their property. City ordinance requires that snow and ice must be removed from the sidewalks prior to 9 pm each day. If snow and ice are not removed, it may be removed by City personnel, with costs for snow removal and an administrative fee assessed against the property.
For more information, email Neighborhood Services or call 218.299.5434.