The calendar below shows all public meetings and City of Moorhead events across all departments and categories. You can click on an event to see more details on it. If you would like to see events for only a certain category or department, you can select it from one of the drop-down boxes below.
You can also subscribe to our eNotifications to automatically receive emails about new events on our calendar.
Onward Moorhead! Virtual Community Workshop
Date:

01/27/2021 5:00 pm - 6:30 pm

Location:

Virtual Meeting



Get involved with the city's 10-year comprehensive planning process.
Lend your voice to the future of housing, mobility, parks and open space, jobs and businesses, and how the city will grow to benefit everyone.
Participate in an online interactive Story Map on your own time or a live virtual community workshop. Check out the webpage: cityofmoorhead.com/onwardmoorhead on Monday, January 25 for information and meeting links.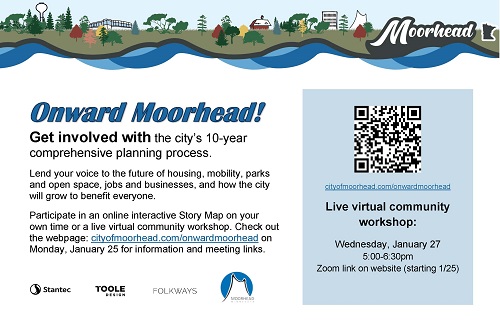 More >>