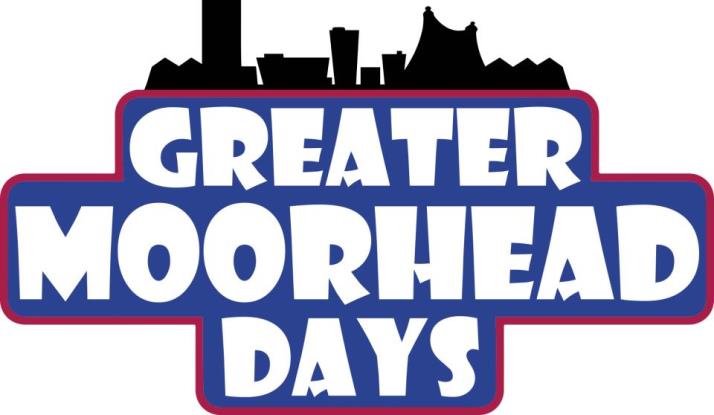 September 9-18, 2021
Celebrate our amazing community with Greater Moorhead Days! Enjoy a variety of fun and exciting events for all ages, including the return of the Greater Moorhead Days Parade and Midco Kids Fest, Canoe and Kayak Rentals and an Excursion on the Red River, the popular Medallion Hunt and so much more! Please check this page for more event information as the event dates draw closer.

If you would like to get involved in any of the Greater Moorhead Days activities, see the info below or please contact Trevor Magnuson at trevor.magnuson@cityofmoorhead.com or by calling 218.299.5296.


STAY LINKED TO THIS PAGE FOR FURTHER UPDATES AND ANNOUNCEMENTS!
Thursday, September 9




Picnic in the Park
Gooseberry Park
4 - 8 pm
An all-inclusive family fun day will kick off Greater Moorhead Days at Gooseberry Park! Inflatable games, face painting, a silent auction and more are planned! Food is available for purchase and all proceeds of the event will go towards the creation of the Moorhead Inclusive Playground.

Information on the Inclusive Playground vision


Friday, September 10



Greater Moorhead Days Parade


Parade Route: Center Ave- West Bound between 11th St and 4th St
6 pm
The Greater Moorhead Days Parade is back and will be better than ever! In an effort to continue to activate downtown Moorhead the Parade will be shifted to Center Ave this year. Join us as our community steps out to shine with floats and fleets from area businesses and organizations to this year's theme: "Our Hometown- Celebrate Moorhead!"

Parade Registration Information
Parade Route


HCSCC Exhibit Opening- Ihdago Manipi: Clay County at 150


Historical and Cultural Society of Clay County Museum
HCSCC's new sesquicentennial exhibition explores the dramatic transformation that occurred 150 years ago in Clay County, Minnesota — including the dispossession of the indigenous Dakota, Ojibwe and Métis people, the arrival of immigrant families, an ecological revolution, and the formation of our modern towns.





Saturday, September 11



HALF-OFF Canoe and Kayak Rentals
Hjemkomst Landing
11 am - 6 pm
Enjoy the Red with one of our Canoe and Kayak rentals! As we wrap up our summer season we are offering half-off rentals during Greater Moorhead Days! Swing by and rent one of our single or tandem kayaks, or a canoe for just $5/hour per vessel. All rentals are on a first come, first served basis. Rentals include paddles and a life jacket that must be worn at all times.


Sunday, September 12




Cancelled: Urban Wilderness River Paddling Excursion
River Oaks Park to Midtown Dam (about 6 miles)
1 - 4 pm

This event was cancelled due to low registrations, we hope to offer again in 2022 with more notice to the public.

The Murie brothers were two of the most important naturalist and conservationists in American history. They learned to love nature while growing up in Moorhead in the 1900s. Retrace their canoe route and learn about how these Moorhead kids helped keep American wild!
All skill levels are invited. The session will begin at 1 pm with the basics of canoeing and kayaking. Details on arrival time and drop-off and pick-up locations will be shared as we draw closer to the event.

Fees: $10/person if you own your own vessel; $15/person for canoe/kayak rental. Register now online. For more information, call 218.299.5340.

This Excursion is hosted by River Keepers and Moorhead Parks and Recreation with the presentation by the Historical and Cultural Society of Clay County.



FMCT Education Fair
Viking Ship Park
1 - 5 pm
Learn about the Fargo/Moorhead Community Theatre (FMCT) at their Education Fair! Food trucks, inflatable games, music, and information about upcoming FMCT Education courses taking place in Heritage Hall at the Hjemkomst. FMCT teachers will be on hand to introduce themselves to the community and to play games with the young, and the young at heart!


Monday, September 13



Medallion Hunt
Begins Monday, September 13, at 8 am
Three medallions will be hidden within Moorhead city limits, on public land. Follow the clues for fantastic prizes, including a $500 cash prize, and a grand prize of $1,000 in gift cards from Hornbacher's! Clues will be posted each morning to our Medallion Hunt Clues page and announced daily on Big 98.7, Bob 95FM, and 107.9 the Fox at 8 am.

Ice Cream Storytime
The Freez
6:30 pm
Join the LARL Book Truck and the Moorhead Public Library at The Freez for an ice cream themed Storytime and library visit!


Tuesday, September 14



Midco Kids Fest
Bluestem Center for the Arts
5 - 7 pm
Free family fun with inflatable games, interactive booths, kite flying, music, carriage rides, a petting zoo, and so much more! Concessions are available for purchase.

Moorhead Farmers Market
Moorhead Ace
3:00-6:00 pm
Find plenty of fresh, local produce, flowers, jams, jellies, baked goods, honey, pet items, and so much more at the Moorhead Farmers Market!

Since the start of the market season, the Moorhead Farmers Market has offered the Power of Produce (PoP) Club for kids ages 4-12. PoP Club provides these kids a $2 token each week to spend on local produce to get them involved in the decision making process and eating healthy!


Wednesday, September 15



On-the-Water Cleanup
5:30 - 7 pm
Join River Keepers as we Clean the Red! For experienced paddlers only; participants MUST be comfortable in a canoe and willing to get wet and dirty. If you want to participate, but not on the water, there are shore cleanups available. If interested, sign up by emailing: info@riverkeepers.org


Thursday, September 16



Stonemill Park Carnival
Trails at Stonemill Park
5:00-7:00 pm
South Moorhead has a hidden gem that we want you to check out! Bring your family and friends out for a magic show by Jeffrey Salveson (6pm), carnival games, balloon twisting, an inflatable game, and food from Casa Delicia Eatery and the Ice Cream Team! Admission is free! Hosted by Prairie Property Management.



Saturday, September 18



Red River Run 5K or 15K
Moorhead Center Mall
7:30 am
Join us for the 48th annual LAP Red River Run, hosted by the Lake Agassiz Pacers! This walk/run has been hitting the streets & paths of Fargo-Moorhead longer than any race in the area. For more information and to register, visit solemotionrace.com/redriverrun.


Bridge Bash
Viking Ship Park
1 - 4 pm
Welcome Students and Do More in Moorhead! Bridge Bash is a college event to welcome students to Moorhead. The event will feature live music, food trucks, hands-on activities and games, booths from area businesses, services, and more! Hosted by the Moorhead Business Association.

Events Sponsored by: