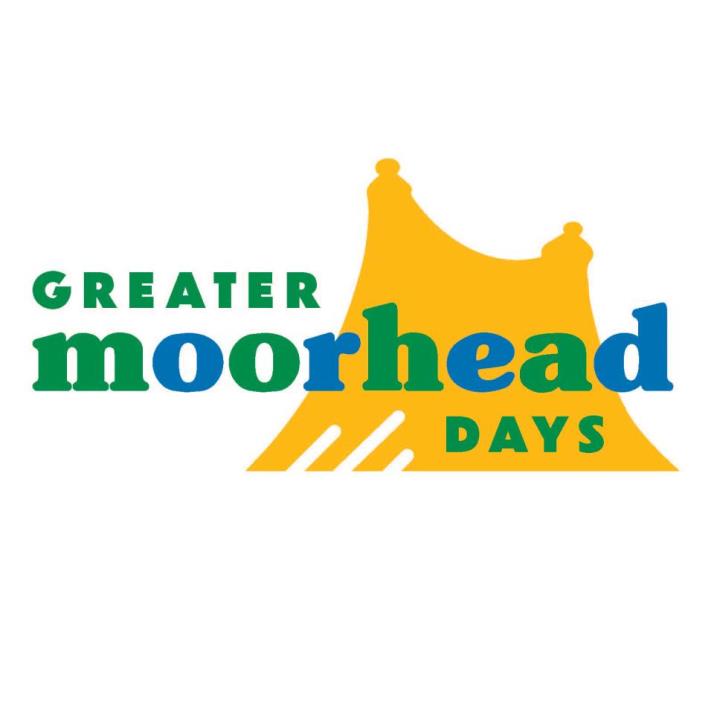 Celebrate our community with Greater Moorhead Days! Join us for a week packed full of fun and exciting events for all ages, including the return of the Greater Moorhead Days Parade!

If you have any questions or if you would like to get involved in any of the Greater Moorhead Days activities planned, please contact Kim Wangler at kim.wangler@cityofmoorhead.com or by calling 218.299.5296.


STAY LINKED TO THIS PAGE FOR FURTHER UPDATES AND ANNOUNCEMENTS!

Thursday - September 7




Bridge Bash

Welcome back college students! Enjoy games and activities,food trucks, vendors/booths, free admission to the Historical & Cultural Society of Clay County Museum, a concert headliner by Brat Pack Radio and local act, The Shuttles. Canoe and kayaks will be available for use, compliments of Moorhead Parks and Recreation and River Keepers.


Hosted by the Moorhead Business Association.

For more information, visit the Moorhead Business Association's website.


Bill Jamerson: History Through Song

6:30 pm

Author, filmmaker, and songwriter, Bill Jamerson makes history come alive with original songs, featuring the story of the immigration to America. This Minnesota Legacy program is supported in part or whole with resources from the Minnesota Arts & Cultural Heritage Fund.
Saturday - September 9




Wings & Wheels Fly In & Car Show

Municipal Airport Exit 6 on I94
8 am - 2 pm
Enjoy a pancake breakfast, a variety of aircrafts on display, youth airplane rides, a sky dive jump at noon, the Sanford helicopter, and a classic car show.




The Flatlander FM Rotary Ride

The FM Rotary is hosting the fifth annual cycling celebration for all ages and abilities. Enjoy various route lengths and start times for casual cycling to experienced riders, and a new family "Walk 'n Roll Loop" through Lindenwood. Registration begins at 7 am at the Lindenwood Park-Rotary Shelter. All riders go through Gooseberry Park and stop at Miracle Field at Southside Regional Park for activities and photos before heading back to Lindenwood Park.




Movie in the Park: Zootopia

Heritage Garden and Amphitheater, Woodlawn Park

8 pm

Join us at the Heritage Garden for a free screening of the family-friendly 2016 film, "Zootopia". Popcorn and blankets will be provided. Hosted by the Katherine Kilbourne Burgum Center for Creativity at the Plains Art Museum.
Sunday - September 10




Ready. Set. Survive! Cass Clay Zombie Fun Run

Noon

It's always easier to run when zombies are chasing you! Enjoy vendor booths and participate in preparedness activities, followed by a 1K Youth Run, and the 5K Zombie Fun Run! Hosted by Cass Fargo Emergency Management.



For more information, visit the Zombie Fun Run website.
Monday - September 11




9/11 Commemoration


9 am
Join us for a 9/11 remembrance program with local Fire and Police departments and military branches. Hosted by the Vietnam Veterans of America Chapter 941.
Tuesday - September 12




Midco Kids Fest

5:00 - 7:30 pm

Free family fun, featuring Penny and Pals, inflatable games, kite flying, carriage rides, a clown, hands-on kids activities, free food (while supplies last), and more!

Moorhead Farmers Market

Moorhead Center Mall parking lot near the corner of Center Ave and 4 St N

2-6 pm

Find plenty of fresh, local produce, flowers, jams, baked goods, honey, pet items, and so much more at the Moorhead Farmers Market!
THURSDAY - SEPTEMBER 14




Water Tower Art Celebration


MB Johnson Park
4- 6 pm
Celebrate the Oakport tower art installation by enjoying free music and Dilly Bars! The program will begin at 4:30 pm, where the project artists will be recognized for their work, and Lake Region Arts Council will name the City of Moorhead as an "Arts Legacy City".



**This activity is made possible by the voters of Minnesota through grants from the Lake Region Arts Council, thanks to legislative appropriation from the Arts and Cultural Heritage Fund.
Explore Moorhead Activities




Medallion Hunt

Begins Monday, September 11, at 8 am

Three medallions will be hidden within Moorhead city limits, on public land. Follow the clues for fantastic prizes, including a grand prize of a $1,000 gift card from Hornbacher's, $500 cash from MSU-Moorhead or a $500 Moorhead business prize package!

Clues will be posted each morning to our Medallion Hunt Clues page and announced daily on Big 98.7, Bob 95FM, and 107.9 the Fox at 8 am.

EVENTS SPONSORED BY: