The calendar below shows all public meetings and City of Moorhead events across all departments and categories. You can click on an event to see more details on it. If you would like to see events for only a certain category or department, you can select it from one of the drop-down boxes below.
You can also subscribe to our eNotifications to automatically receive emails about new events on our calendar.
Moving Words: Writers Across Minnesota
Four Minnesota Book Award-winning authors come together to explore various themes
Enjoy a lively discussion with four multi-genre, Minnesota Book Award-winning authors: Heid E. Erdrich, Shannon Gibney, Nicole Helget, and Kao Kalia Yang. Moving Words is an opportunity for writers and readers to explore various themes together: the impact of literature in their lives, their connection as fellow Minnesotans, and the lens through which we read. This ASL interpreted event is made possible in part by the State of Minnesota through a grant to the Minnesota Department of Education and a grant from the Minnesota State Arts Board, as well as support from BNSF Railway Foundation.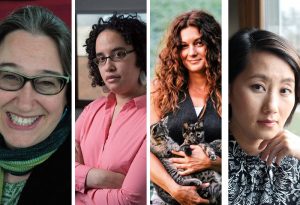 More >>